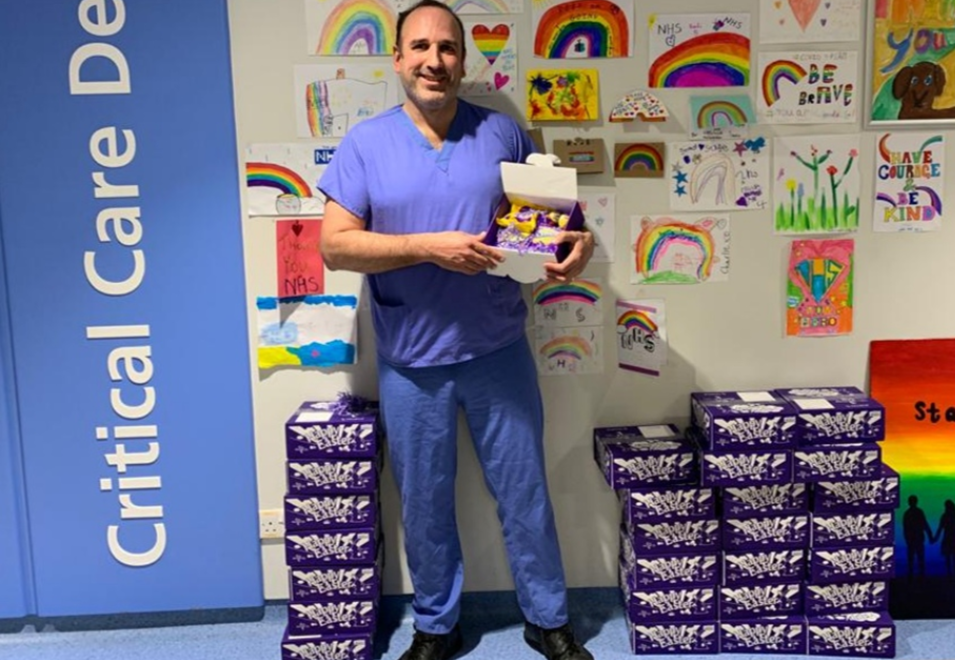 A nurse's account of working on the frontline
"Hello. My name is Joan Pons Laplana. I was born in Barcelona, and graduated as a nurse in 1997. After three years of trying to find a stable job as a nurse in Spain, I decided to pursue my dream of working in the UK. I landed in Luton on Bonfire night with £50 in my pocket and a suitcase full of dreams.
I am one of the thousands of overseas nurses who settled in Great Britain in search of professional stability that they could not find in their own country. It has been more than twenty years since I joined the NHS.
At the start of the pandemic I left my desk job as a senior staff nurse at Sheffield Teaching Hospitals and volunteered to go to the COVID intensive care unit (ICU) in my hospital, the same place where my NHS career started two decades ago.
Emotionally, I was hit very hard. Every day I went on a rollercoaster from joy to grief in a matter of seconds, experiencing anxiety, fear, insecurity, guilt, anger and loneliness along the way. The work was often bleak, and I needed to constantly be on alert. I couldn't lower my guard for a moment because a single mistake can cause an unnecessary death.
Every time I opened the doors of the ICU I knew I was risking my own life as well. There is a huge psychological pressure when you realise your mortality, a constant voice whispering that you could be next.
We wore the PPE kit constantly. All I could see were the eyes of my colleagues, so communication and camaraderie was lost. It was very hot and sweaty throughout the twelve hours that the shift lasted and I couldn't lift my visor to dry my face or take a sip of water. Breaks were planned to eat, drink and carefully remove and replace PPE to go to the bathroom.
Psychologically, I was not prepared or able to cope with the large volume of deaths and the intense pain we experienced every day. I often worried about the decisions I had made during my shift. Sometimes I was so worried, that I even got to call the unit to talk to the work colleague who was caring for my patient to check to know how my patient was doing. The broken nights were accumulating and little by little the fatigue was taking over my body. But all of us kept trying to do our best. What choice did we have?
By the end of the second COVID wave, I was diagnosed with PTSD. I felt like a failure. I was ashamed to have had problems with my mental health. I thought this only happened to weak people and at the beginning I didn't tell anyone.
I started face-to-face therapy with a psychologist and gradually regained my mental balance. With the help of a psychologist, I realised that having a mental imbalance is nothing to be ashamed of. That my PTSD was the result of the situation in which I had found myself. I'd also neglected my mental health for many years. For 45 years I became very good at pretending I was okay when I wasn't.
The most important lesson I've learnt is that mental health is as important as physical health. You need to allow yourself to recognise your feelings and learn to share. I'm still learning from it; I still often feel uncomfortable talking about feelings.
Mental health carries a great stigma. At first, I thought people would judge me and condemn me. After all, I had always given an image of strength. I realised that my stress and anxiety were illnesses that could affect everyone. Now I am not ashamed to say that I needed help.
The problem is that for many years society has made us believe that having ups and downs in your mental health is a sign of weakness. Before I used to hide my problems, my anxieties, I did not share my doubts. I did not to accept my limitations. I have learned that I am no less of a man or a worse father or nurse because I had mental health problems. Taking care of mental health is not a weakness, quite the opposite. The bravest thing a person can do is ask for help when they need it. It's ok not to be ok.
As part of my therapy, I started to write a book about my work in the ICU, and the first chapter I wrote was about my experience during the pandemic. I wanted to show what it is to be a nurse in the NHS on the COVID frontline, and to showcase the daily challenges that nurses have.
I also wanted to show how it feels to struggle linguistically, professionally, and culturally, within a new country, to engage with the gargantuan system that is the NHS, and to strive constantly to improve public health. I wanted to describe the journey I made to become 'Nurse of the Year 2018' and how I became a stubborn fighter, even at the cost to my physical and emotional health.
We are in the road out of the COVID pandemic but the pressures on the NHS are unrelenting. The impact that COVID has had on the mental health of NHS staff has been tremendous and we will see the full impact for many years to come. We need to start talking and supporting each other, individually and as an organisation. This book also wants to try to remove the stigma that mental health still has in our society and especially amongst men like me.
All book profits go to two charities close to my heart, the Cavell Nurses Trust and the Healthcare Workers' Foundation. I chose these two charities because they offer help and support to nurses and anyone working in a healthcare setting. Their services are much-needed now and any money that this book will raise I know will be put back into supporting all the health workers that they did an heroic work during the pandemic."
You can order Joan's book on Amazon or for a signed copy order at his website.