Get Involved
Step Up for HWF
Did you know that nursing staff walk at least 61,000 steps a week? That's more than two half marathons…over 29 miles!
Put your best foot forward
We think that it's time to go the distance for our healthcare workers, in solidarity for everything they do for us. Introducing HWF's first virtual event…
The challenge
10k Steps

Every day for 30 days

Track your steps

Fundraise for HWF
You can get your steps in however you like, just clock up 10,000 steps a day to keep on track. We've included some top tips below to get you started! There's no fundraising target - any amount you raise will make difference to healthcare workers struggling across the UK.
"So many healthcare workers are suffering with PTSD, anxiety, depression, stress and other mental health problems. So many staff lie in bed awake at night hearing ventilator alarm sounds ringing in their heads, the sounds of covid patients gasping for breath, patients crying out for help".
Emily, ICU Nurse
Sign Up for Step Up for HWF
Raise £100 or more to receive a free HWF T-shirt.
Your £100 could pay for two counselling sessions to support the many healthcare workers suffering from PTSD, struggling to cope with everyday life.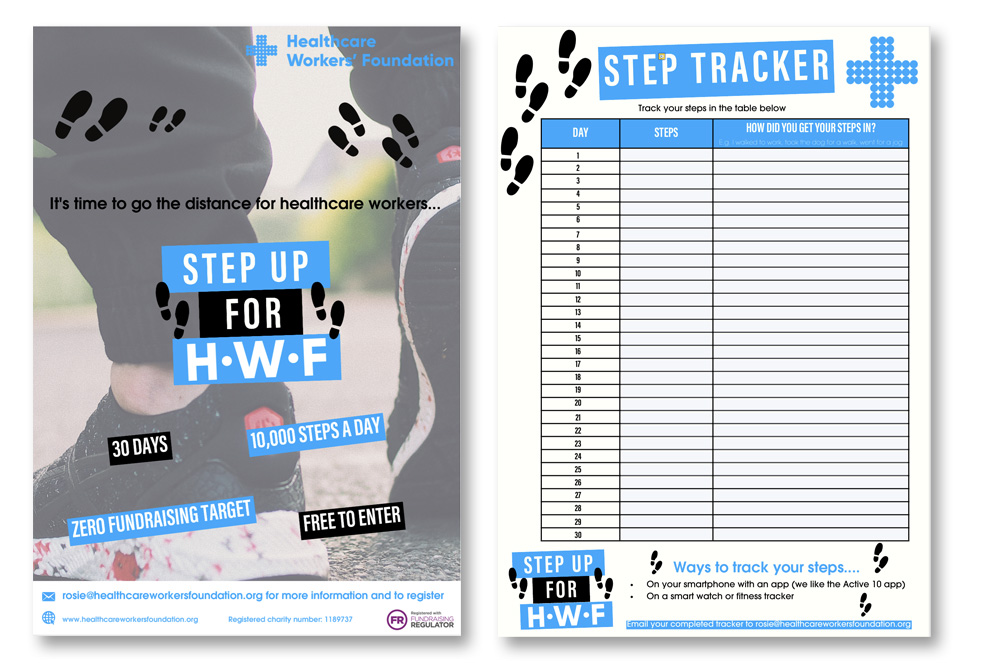 WE WILL SUPPORT YOU
Registration is free! Once you sign up, we will send you the following:
Top tips for stepping up
Step tracker
Sponsorship form
Fundraising pack
Getting Your Steps In
Take a moving break - go for a short walk during a lunch/coffee break.
Park further away - steps to and from the car soon add up.
Step on the spot whilst watching TV - clock up the steps when watching your favourite show or film.
Walking meeting - got a work call? Can you walk and talk?